Electronic Products Division - Santa Maria, California
Click here to see ISO 9001:2008 Certificate

Click here to see how Teledyne Reynolds can do your High Voltage Assembly, Potting & Testing for you

High Voltage Capacitors with

Mica

Reliability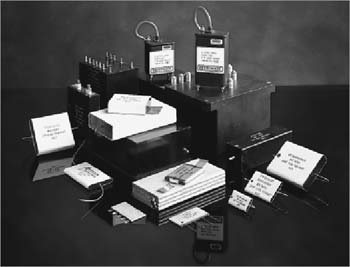 HIGH VOLTAGE CAPACITORS
• Temperature Stability (-65°C to 125°C)
• High Reliability (Proven Rel-testing)
• 100% Inspection (Capacitance, Voltage, Dissipation Factor and Burn-in)
• Capacitance Stability (Temperature, Voltage and Frequency)
• Low Inductance capability (EFI Applications)
• Mechanical Durability (Military Shock and Vibration Environments)
---
High Voltage Capacitors with Mica Paper
From Reynolds Industries
Electronic Products Division
Glossary of High Voltage Capacitor Terms:

MICA: Mineral silicates H2KA13(Si04 )3 naturally occurring. An excellent
insulator resistant to temperatures. Used as a dielectric in capacitors
and as insulation in high voltage, high temperature environments.

Reynolds High Voltage Capacitors with mica paper are manufactured with reliability as the prime
consideration. Reynolds engineers have developed and implemented an extensive reliability proofing program consisting of thermoset epoxy impregnated MICA dielectric systems over a period of 540,000 unit hours of operation. (consult the factory for reliability data)

Reynolds High Voltage Capacitors are available in a variety of configurations:

Raw Sections: For use in potted/embedded next higher assemblies.
Wrapped and End capped: For stand alone applications requiring no subsequent potting or embedment processes. Wrap material is Mylar® or woven glass.
Fiberglass Encased Epoxy-filled Construction: Provides the attributes
of the epoxy molded configuration with no hard tooling required.

Low Inductance/High Current: Ideal for Exploding Foil Initiators (EFI).
Micapacitors designed for very low inductance (6nH) and high currents (3 to 10 kA) are available in any of the above configurations. Similar low inductance, high current designs are available for Exploding BridgeWire initiators (EBW).
---
Micapacitors
Specifications

General specifications
capacitance: 20 pF to 10 µF
Voltage Range: (operating)
1,000 to 60,000 D.C.
Temperature Range: (operating)
-55 to + 125 degrees C.
Energy Density:
0.2 to 1.5 joules per cubic inch.
(consult factory for application details)
Note: A two hour burn-in is performed
on every capacitor manufactured.

capacitor Proof Voltage
A DC voltage, as listed below, shall be applied for a period of five seconds with charge and discharge current limited to one ampere.


| | |
| --- | --- |
| Rated Voltage | Test Voltage |
| 0 to 8.0 KV | 200% |
| 8.1 to 10.0 KV | 175% |
| 10.1 to 12.0 KV | 150% |
| 12.1 to 20.0 KV | 140% |
| 20.1 to 30.0 KV | 130% |
| 30.1 KV and up | 120% |

capacitance tolerance is plus or minus 10%

---

---

---
---
High Voltage capacitors with mica paper
Applications

Epoxy Molded Capacitors
Epoxy molded assemblies can be configured in solid complex shapes and mounting arrangements. Units can contain several voltage and capacity values and a variety of terminations.
These configurations offer stand-alone shock, vibration and environmental security with Mica reliability.
Epoxy molded capacitors are currently qualified for use on major military and commercial programs.

Mica Paper

capacitors in Voltage Multipliers
Raw high voltage capacitors are used in Reynolds

Mica

plier voltage multipliers. These units have output voltages ranging to 160 kVDC.


Mica

pliers are used in a wide range of military and commercial applications.
Typical applications are: CRT anode and focus supplies for airborne EFIS (Electronic Flight Instrumentation Systems), X-Ray equipment and low power (mini) TWT's.


Mica Paper

capacitor Variety

Shown arevarious configurations: Epoxy molded, fiberglass encased with epoxy filling, wrapped and end capped. Also shown are capacitors attached to low inductance strip lines for use on EFI and EBW initiators and ESA&F systems.
---
Special Order High Voltage Capacitors with Mica Paper
Let us design a high voltage mica capacitor to your requirements by e-mail or FAX. Just
provide us with a few critcal items like operating voltage and temperature and in two
days we will provide critical dimensions, weight, price and delivery! ORDERING
Mica

Paper

Only the finest

Mica

paper is used in the manufacture of Reynolds

Mica

paper capacitors. The material comes in a roll of a specified width and thickness and undergoes a thorough incoming inspection before use. Precision winding machines are used to wind the

Mica

material into a custom, computer generated configuration.

Raw mica paper capacitors
During the winding process, tabs are inserted to serve as termination points. The wound sections are then impregnated in a special epoxy and pressed to a specific density. The sections are then cured under pressure and post cured in an oven.
After extensive testing, the units are ready to be assembled into a next higher assembly by the customer or at Reynolds Santa Maria facility.
Wrapped & End Capped

capacitors
The raw capacitors are wrapped in
Mylar® or woven glass, have lead wires
attached and are end filled with epoxy. These units are a stand-alone configuration which require no subsequent potting or embedment processes.
---
Standard High Voltage Capacitors with Mica

All standard capacitors meet the specifications and testing requirements shown on the


Capacitors Specifications

chart. Delivery: 3 days (stock) to 3 weeks. Click on

ORDERING

for price and delivery.
Part Number
Voltage
(KVDC)
nF (Cap.)
Length
Width
Thickness
M103A252A000
2.5
10
1.31/33.3
0.73/18.5
0.13/3.3
PDF
DATA
SHEET
M253A252A000
2.5
25
1.56/39.6
0.83/21.1
0.18/4.6
M503A252A000
2.5
50
1.94/49.3
1.15/29.2
0.184/4.7
M104A252A000
2.5
100
2.19/55.6
1.36/34.5
0.24/6.1
M254A252A000
2.5
250
2.81/71.4
1.79/45.5
0.30/7.6
 
 
 
 
 
 
 
M502A502A002
5
5
1.44/36.6
0.82/20.8
0.17/4.3
PDF
DATA
SHEET
M103A502A000
5
10
1.69/42.9
0.97/24.6
0.20/5.1
M253A502A000
5
25
2.19/55.6
1.32/33.5
0.22/5.6
M503A502A003
5
50
2.56/65.0
1.62/41.1
0.26/6.6
M104A502A004
5
100
3.06/77.7
2.01/51.1
0.31/7.9
 
 
 
 
 
 
M252A752A000
7.5
2.5
1.56/39.6
0.84/21.3
0.19/4.8
PDF
DATA
SHEET
M502A752A000
7.5
5
1.81/46.0
1.08/27.4
0.20/5.1
M103A752A000
7.5
10
2.19/55.6
1.32/33.5
0.22/5.6
M253A752A000
7.5
25
2.69/68.3
1.75/44.5
0.28/7.1
M503A752A002
7.5
50
3.19/81.0
2.16/54.9
0.33/8.4
 
 
 
 
 
 
M102A103A000
10
1
1.56/39.6
0.90/22.9
0.19/4.8
PDF
DATA
SHEET
M252A103A000
10
2.5
1.94/49.3
1.18/30.0
0.20/5.1
M502A103A001
10
5
2.19/55.6
1.35/34.3
0.23/5.8
M103A103A000
10
10
2.69/68.3
1.69/42.9
0.25/6.4
M253A103A000
10
25
3.19/81.0
2.08/52.8
0.34/8.6
M503A103A003
10
50
3.81/96.8
2.60/66.0
0.40/10.2
 
 
 
 
 
 
M102A133A000
12.5
1
1.94/49.3
1.08/27.4
0.20/5.1
PDF
DATA
SHEET
M252A133A000
12.5
2.5
2.19/55.6
1.36/34.5
0.24/6.1
M502A133A001
12.5
5
2.56/65.0
1.62/41.1
0.28/7.1
M103A133A001
12.5
10
3.12/79.2
2.06/52.3
0.27/6.9
M103A133A001
12.5
25
3.94/100
2.72/69.1
0.35/8.9
M503A133A001
12.5
50
4.69/119
3.26/82.8
0.41/10.4
 
 
 
 
 
 
M102A153A001
15
1
2.19/55.6
1.31/33.3
0.21/5.3
PDF
DATA
SHEET
M252A153A000
15
2.5
2.56/65.0
1.59/40.4
0.25/6.4
M502A153A000
15
5
2.81/71.4
1.81/46.0
0.31/7.9
M103A153A001
15
10
3.31/84.1
2.18/55.4
0.34/8.6
M253A153A003
15
25
4.44/113
3.10/78.7
0.38/9.7
 
 
 
 
 
 
M102A203A001
20
1
2.57/65.3
1.58/40.1
0.25/6.4
PDF
DATA
SHEET
M252A203A000
20
2.5
2.82/71.6
1.78/45.2
0.25/6.4
M502A203A000
20
5
3.44/87.4
2.24/56.9
0.34/8.6
M103A203A000
20
10
4.19/106
2.58/65.5
0.42/10.7
M253A203A000
20
25
5.32/135
3.77/95.8
0.58/14.7
 
 
 
 
 
 
M501A253A000
25
0.5
2.69/68.3
1.65/41.9
0.27/6.9
PDF
DATA
SHEET
M102A253A002
25
1
2.82/71.6
1.84/46.7
0.31/7.9
M252A253A000
25
2.5
3.32/84.3
2.26/57.4
0.36/9.1
M502A253A001
25
5
3.82/97.0
2.68/68.1
0.41/10.4
M103A253A001
25
10
4.69/119
3.30/83.8
0.46/11.7
 
 
 
 
 
 
M501A303A000
30
0.5
3.19/81.0
2.09/53.1
0.33/8.4
PDF
DATA
SHEET
M102A303A001
30
1
3.57/90.7
2.46/62.5
0.35/8.9
M252A303A000
30
2.5
4.32/110
3.06/77.7
0.39/9.9
M502A303A000
30
5
4.69/119
3.42/86.9
0.68/17.3